Cruise the Great Lakes Announces Safety Pledge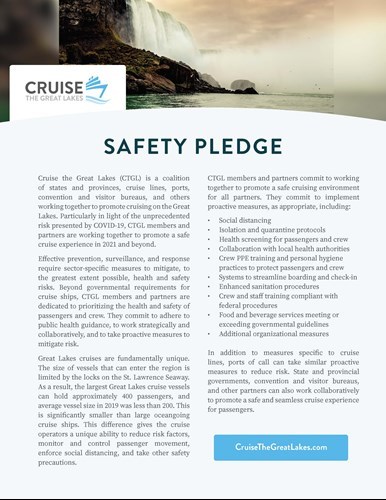 Today, a coalition of cruise lines, ports, and convention and visitor bureaus committed to the Cruise the Great Lakes (CTGL) Safety Pledge. The Safety Pledge is intended to promote a safe cruise experience in 2021 and beyond. In addition to governmental requirements for cruise ships, CTGL members and partners are dedicated to prioritizing the health and safety of passengers and crew. They commit to adhere to public health guidance, to work strategically and collaboratively, and to take appropriate proactive measures to mitigate risk.
Great Lakes cruises are fundamentally unique. The size of vessels that can enter the region is limited by the locks on the St. Lawrence Seaway. As a result, the largest Great Lakes cruise vessels can hold approximately 400 passengers, and average vessel size in 2019 was less than 200. This is significantly smaller than large oceangoing cruise ships. This difference gives the cruise operators a unique ability to reduce risk factors, monitor and control passenger movement, and take other safety precautions.
"This Safety Pledge reinforces the collaborative spirit of Cruise the Great Lakes. The region's states, provinces, cruise lines, ports, and convention and visitor bureaus are working together to promote a safe cruise experience on the Great Lakes," said Dave Lorenz, Chair of CTGL and Vice President of Travel Michigan.
"The cruise ships operating on the Great Lakes are uniquely suited to reducing risk and promoting safety," said Paul Taiclet, Vice President of Pearl Seas Cruises. "We look forward to working with our many partners across the region as we prepare for a successful 2021 cruising season."
The CTGL Safety Pledge is a commitment to working together to promote a safe cruising environment for all partners. It includes proactive measures, to be taken as appropriate, including:
Isolation and quarantine protocols
Health screening for passengers and crew
Collaboration with local health authorities
Cruise the Great Lakes is the region's cruise marketing partnership. It is a collaboration of the region's States, Provinces, and partners working together to grow regional cruising. Its mission is to promote cruising in the region through an optimized and unique brand targeted towards current and potential passengers. Cruise the Great Lakes will accelerate the growth of regional cruising.